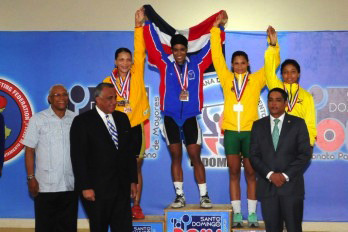 Yudelkis Contreras Wins Gold in 53 kg
Dominican youth player Peter Bertran came yesterday the main draw of Roland Garros in Paris, France, after winning the final of the qualifier, beating Swede Daniel Appelgreen in three sets 1-6, 7-6 (2) 6-0.
"'I'm satisfied as I could give the gold to my country "said the champion at the end of the competition, while dedicated the medal" God first, because without him nothing is possible then to all my teammates, coaches and my family, and most especially my people, San Pedro de Macoris. "
Contreras won Thursday the boot mode and finished second in momentum per body weight. He lifted 110 kilos like Rosanne Santos of Brazil who won the gold medal, while the third place went to Vanessa Quiñones of Colombia who lifted 103 kilos.
The quisqueyana totaled 207 kilos to earn easy competition against 193 kilos that achieved the Villar Colombia ended in second position, while Rosanne Santos won the bronze medal with a total of 183 kilos.
Creole setter, who set record Pan in the "Startup" mode when lifted 97 kilos, breaking his own mark tried twice to establish a new superiority in Snatch, which also owns 112 kilos, when he failed twice with 113 kilos on the bar. The weightlifter began his involvement with 110 kilos giving him the second position, matched by Villar who won first place. Contreras weight 53.00 kilos while the weight of Villar is 52.64. was sorry to miss the movement while said work to improve the brand and "fix some glitches."
Pondera government support Yudelkis Castillo thanked President Danilo Medina ease of mounting the event "allowing Dominicans enjoy a Pan American event, with regional and World Cup medalists athletes.
At the same words of thanks was for President of the Dominican Olympic Committee, Luis Mejia Oviedo and Creso program, Creating Olympic Dreams, and Williams Ozuna, president of the Dominican Federation of Weights and the Pan American Confederation. had words of encouragement for their peers and younger generations stating that "we must fight because effort can achieve big dreams." he pondered the work Weightlifting Federation, highlighting the large number of "young lifters come as emerging, with the potential to outperform this generation is setting."
Source: Diario Libre