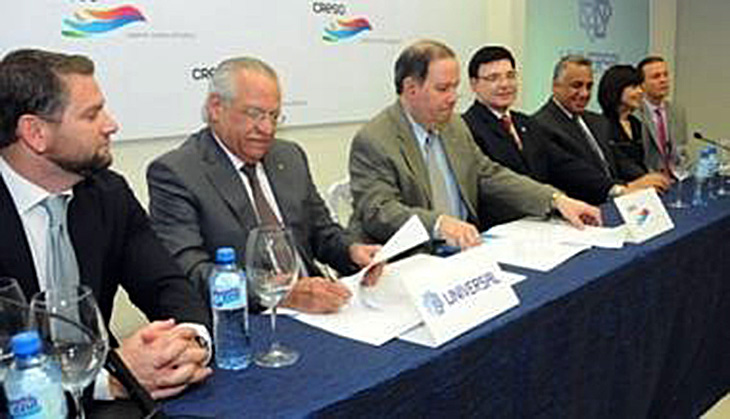 Universal Group Joins Creso to Support Athletes DR
The Creating Olympic Dreams (Creso), the main engine support high performance sport from the private sector, continues to expand its range and last night joined a new member to your family: the Universal Group, as an investor partner.
It is the ninth company that enters the Creso, which joins other since 2010 investing in sports development and academic training of more than 80 top athletes Dominicans.
"To Creso is an honor to announce to Universal and we are extremely excited, that union is precisely what allows our support creso, continue to top athletes and is consistent," said Felipe Vicini, executive chairman of the Board announce this partnership during a press conference held in the Multipurpose Room of the Center for Universal Services, accompanied by Ernesto Izquierdo, president of the latter; Luis Mejia, president of the Dominican Olympic Committee and Eduardo Najri; executive vice president of the Council of Creso.
Likewise, they were in the main table Brache Group July Rica; Gerty Valerio and Jose Claro Billini ejectuvo director of Creso.
Vicini emphasized that the Creso project is a complement of resources provided by the Dominican State in sport and its primary focus is to invest in high-Olympic athletes performance, accompanied by academic training, to provide tools that allow them to work in any field sport or other area in which they have been trained professionally.
"The addition of the Universal Group is an important step that will certainly reflect positive results in our programs to support high performance athletes, while opening a space for integrating new disciplines and prepare them to compete in the biggest sporting scenarios world, "Vicini.
For his part, Mejia said that this is an alliance of encouragement to keep going in the Olympic cycles, Veracruz (Central) in Mexico, Toronto (Pan) in Canada and Rio de Janeiro (Olympics) in Brazil.
"This is the foundation that guarantees us that gives us the confidence to compete with us gallantry, as we have been doing. With this partner number nine, entering the palmares of being one of the sectors that has private sector support, "said the CEO of COD.
The event was attended by executives of companies affiliated to the program, President and representatives of sports federations, as well as athletes.
Now with the integration of Universal, the Creso is made by Central Romana Corporation, Clear, Ferquido, Sociedad Industrial Dominicana, Banco Popular Dominicano, Grupo Rica, Dominican Sun Company SA and Vicini, along with the Dominican Olympic Committee as a sport technique entity. The initiative expands freely to focus their contributions to the Olympic Cycle Actual ending with the Olympics in Rio de Janeiro 2016.
Source: Listin Diario