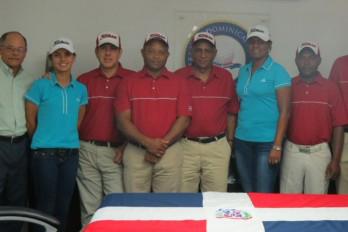 Team to Participate in Caribbean Golf Tournament is Presented
The Dominican Golf Federation presented the delegation that will travel to St. Thomas to participate in the 57 tournament matches of the Caribbean Golf Association, scheduled to take place between the 5th- 9th this month. 14 golfers will compete in four categories.
Participating countries: Puerto Rico, Jamaica, Barbados, Trinidad & Tobago, U.S Virgin Islands, Turks & Caicos, Bahamas, St. Thomas, St. Kitts and the Dominican Republic.
This team competition is celebrated each year among the islands forming the Caribbean Golf Association.
The Dominican delegation is composed by Lino Guerrero, José Alberto Hernández, Radhamés Pena and the CRESO Program members Ernesto José Vitienes and Juan José Guerra, whom will compete for the Hoerman Cup.
Juan Campusano and Marcel Olivares form the Mid-Amateur Team; Luis Nannum and Domingo Medina will play in the Senior Category, and Héctor Then and Andrés Diloné will play in the Super Senior category.
The female players will be represented by players Karina Sánchez, Cecilia Nord and Gabriela Victoria. The Captain to the Dominican team, Francisco Bordas, manifested holding great expectations to champion from all the tournaments that will take place in the Mahogany Run Golf Club.
Source: Diario Libre