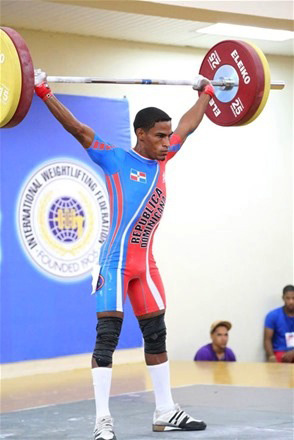 Ronald Peña Gives First Medals in DR at the American Pan of Weightlifting
Ronald Peña gave the Dominican Republic its first medals at the Continental Weightlifting Championship held at the pavilion doctor Jose Joaquin Puello East Park.
Peña was a worthy opponent winning silver and bronze medals in the 56 kg division in which Colombia, with Habib Las Salas, began to show the power that keeps this nation as the leading power in America.
Peña won the silver medal in the snatch and 108 kilos added his silver in total with 238, after a resurgence of his right knee injury prevented him from making the final two movements in clean and jerk, 135 and 136 kilos, respectively.
The overall winner was the Colombian De Las Salas, who gave a great show and won three gold medals with raised 111, 147 and 258 kilos, on.
"I prepared for this competition with the hope of giving the title to my country, but health problems prevented me from having a good final preparation and these problems surfaced during the competition," said Pena, who was affected both knees one month before the tournament that gives countries 125 places for the Pan American Games in Toronto, Canada, next year.
Peña was far from 260 kilos marks in total he was doing in training. "For all that tried to secure the silver medal and thank God I could do," said Pena, who was lifting 117 in the snatch and 143 in the form of the two times.
The bronze medal went to start the Ecuadorian Walter Zurita, who lifted 107 kilos. The championship has the support of the Central Government, through the Administrative Office of the President, as well as Creating Olympic Dreams (Creso) and COMIE Dominican Olympic program.
In the clean silver remained in the hands of the Chilean Francisco Barrera with 136 kilos and Haitian Edwar Josef won the bronze with 135. In total, the second place went to Barrera with 241 kilos.
Source: Listin Diario