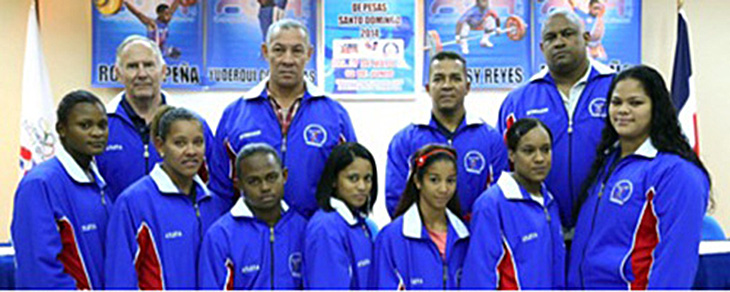 Quality! Ozuna Says Weight Continental Tournament Will Make History
William Ozuna, president of the Dominican Federation of Weights, said this morning that the Continental Tournament of that discipline will be of great quality and ensured its success.
Ozuna said all is set for the start of the fair this afternoon at four when a "historic inauguration ceremony" is done.
Highlighted the quality of competitors and revealed that "we in the country have world-class weightlifters".
The main leader of the Federation of Weights estimated the Organizing Committee of the Continental Tournament of Weights has done an excellent job to ensure the brilliance of the Championship.
Qualifier
125 seats will be placed in the tournament for the Pan American Games next year which will take place in Toronto, Canada.
Said they are 249 weightlifters in the country, divided into 104 women and 145 men.
"I'm amazed at the number of athletes who came to the country. We will have a great tournament, "said Ozuna.
He added:
"The Dominicans have the opportunity to see a lot of high quality athletes who have performed at Olympics and World Championships."
Record
Ozuna said there will be a record number of participants.
"I am very pleased with the great work of the leaders, many linked to weightlifting federation people."
Alberto Perdomo Pina, president of the organizing committee of the tournament, has worked tirelessly with other members of that body.
"It was a collaborative effort and there is great hope that everything is well.
Enthusiasm is all high, said Wiliam Ozuna.
Danilo Medina
Ozuna thanked President Danilo Medina
and José Ramón Peralta, administrative mininister of the Presidency, for its support to Continental Tournament Weights.
He noted that the President of the Republic has offered great support, along with other institutions, including the ones mentioned by Creating Olympic Dreams (Creso) and the Dominican Olympic Committee program.
Countries
Ozuna revealed that the United States, Canada, Mexico, Costa Rica, Honduras, El Salvador and other nations increased the number of participants in
relation to other events in the same category.
"I can assure that we will end well. He has done a great job and the stage is beautiful and ready for different tests," says the head of the federation of weights.
!We shall triumph!, Ozuna told reporters from El Nacional.
Until tomorrow, God willing, Dominicans
Believing that a weak enemy can not harm us is to believe that a spark can not cause a fire, " Saadi "The true measure of the greatness of a man is how he treats someone who can not benefit from them at all," Ann Landers
Source: El Nacional