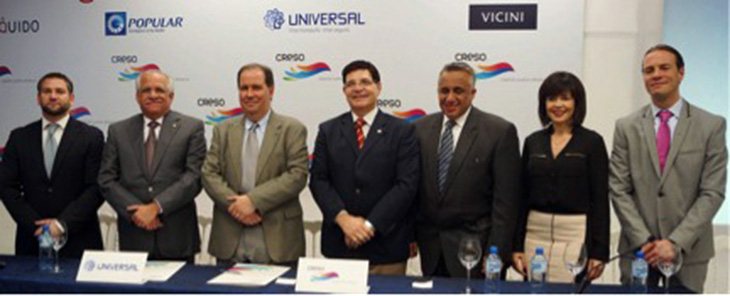 Luisín: «Creso is the Best Reinforcement of Sport»
The president of the Dominican Olympic Committee said last night «Creating Olympic Dreams (Creso) reinforcement is the best sport Dominican.»
Mejia said he has been a blessing Arrival Universal Group as a new member of Croesus, who has come to help further strengthen the Olympic movement national.
The main leader of COD said he is convinced that Croesus is the mainstay of the sport, with government contributions.
Formalizes
Creating Olympic Dreams formalized an agreement incorporating the Universal Group and investment partner, whose mission is to invest in sports development and academic education of Dominicans over 80 top athletes, according to a note that provides me the address press COD and especially brother journalist Leonardo Reyes.
Felipe Vicini
The agreement was formalized in the Multipurpose Room of the Center for Universal Services between Felipe Vicini, chairman of Croesus and engineer Ernesto M. Izquierdo, president of Universal Group. Were present Luisín Mejia, president of COD; Eduardo Najri, vice president of the Board of Croesus and Rafael E. Izquierdo, administrative vice president of the Universal Group.
Felipe Vinici Croesus said the project is a complement to the resources provided by the Dominican State in sport and its primary focus is to invest in high-Olympic athletes performance, accompanied by academic training, providing the tools to enable them to work in any field of sport or other area in which they have been trained professionally.
Vicini, who chairs Croesus, has been a great contributor to the sport and has achieved the incorporation of several young entrepreneurs and veterans to contribute to the activity of muscle and mind.
The attitude and the work of Felipe Vicini have allowed the national sport will not collapse, because their financial aid has "saved the national sport."
Croesus has also fajarse athletes to study in order to stay within that program seeking help create new high professional qualifications.
Until tomorrow, God willing, dominicans
Many wonders in the universe; but the masterpiece of creation is the maternal heart " Ernest Bersot "Mother there is only one, not love in past or future. Love her in this " Pedro Pantoja S.
Source: El Nacional