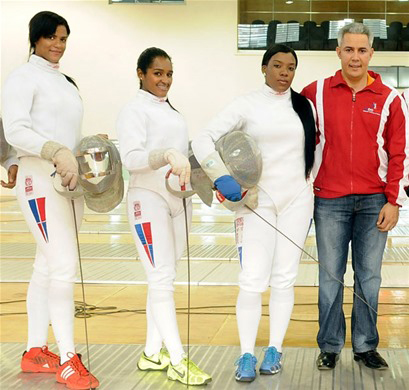 Fencing Selection goes to Cuba World Cup
The Dominican Fencing Federation will participate in the Grand Prix and the World Cup in Havana, Cuba, thanks to the support given by CRESO, that, as stated by its name "Creates Olympic Dreams" of athletes, whom without the CRESO financial support, would have been impossible to achieve.
The information was made public by the President of the Dominican Fencing Federation, Junior Arias Noboa, at the time that the congratulated CRESO and the Dominican Olympic Committee, for making possible for the Dominican fencers to participate in both tournaments.
"To participate in events of this category, was a chimera for us back then", Arias Noboa said.
"Today, thanks to the work done by the Federation, we are a reality in Central America and the Caribbean, the product of a systemized and organized work, just as is shown by the FIE international ranking", he pointed out.
The delegation is composed by Violeta Ramírez, Elsa Mateo and Lizmery Dalisda, whom will participate in the Women's Fencing Grand Prix, individually and in teams, which will take place the 23rd-24th this month.
Arias Noboa explained that the country will also be duly represented in the Male Cycling World Cup, featuring athletes José Samora, Darlin Rodríguez and Gabriel Rivera in the individual as well as Team category. This championship is scheduled to take place on the 24th and 25th this month.
Prior to these important engamentes, the complete delegation will undergo a series of training sessions in Cuba, effective tomorrow Thursday, Arias Noboa emphasized.
Source: Listin Diario