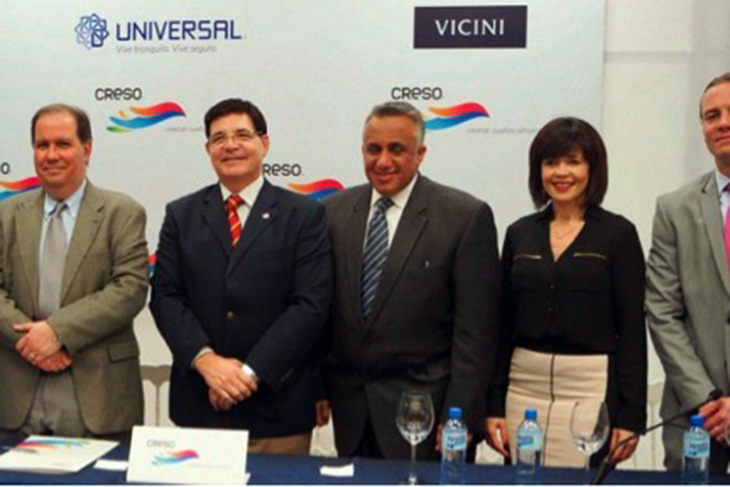 Creso Joins Universal Group Among Companies Supporting High Performance Athletes
Creating Olympic Dreams (Creso) entered into an agreement that incorporates Universal Group as an investor partner to this organization whose mission is to invest in sports development and academic training of more than 80 top athletes Dominicans.
The signing ceremony was held in the multipurpose room of the Center for Universal Services between Messrs. Felipe Vicini, Chairman of the Board of Creso, and Ernesto M. Izquierdo, president of Universal Group; accompanied by Mr. Luis Mejia Oviedo, president of the Dominican Olympic Committee; Eduardo Najri, vice president of the Board of Creso; and Rafael E. Izquierdo, vice president of Universal Administrative Group.
Vicini emphasized that the Creso project is a complement of resources provided by the Dominican State in sport and its primary focus is to invest in high-Olympic athletes performance, accompanied by academic training, providing them with tools that allow them to work in any field sport or other area in which they have been trained professionally.
"The addition of Universal Group represents an important step that will certainly reflect CRESO positive results in our programs to support high performance athletes, while opening a space for integrating new disciplines and prepare them to compete in most sports arenas important in the world, "said Vicini.
Izquierdo said "part of the companies belonging to CRESO underscores our support for sport and human values ​​conveyed practice thereof, as are results oriented, spirit of excellence and continuous improvement.From now on, we are honored to continue supporting promising young sport from an entity that is engaged in making their goals and dreams, while to position our country internationally."
For his part, Mr. Mejía said that this is a win-win partnership for high performance sport, to our athletes and to the country. "This will result in generating greater participation and commitment of the athletes, as well as an expansion of sports activities to the international competitive instances that make up the current Olympic cycle, such as the Central American and Caribbean Games, which in its 22th edition will have as based Veracruz, Mexico in November and we have confirmed the classification and participation of 70 Dominican athletes belonging to Creso. "
Universal Group is the ninth corporation entering Creso and since 2010 is made up of business partners such as Central Romana Corporation, Clear, Ferquido, Sociedad Industrial Dominicana, Banco Popular Dominicano, Grupo Rica, Sunshine Company Dominicana SA and Vicini, together with the Dominican Olympic Committee as a sport technical unit. The initiative expands freely to focus their contributions to the Olympic Cycle Actual ending with the Olympics in Rio de Janeiro 2016.
The chairman of Creso led to other leading companies of the country to join this project thus help generate greater opportunities for Dominican Republic in more places at international events such as the 2015 Pan American Games in Toronto and the Olympics in Rio de Janeiro to be held in Brazil in 2016.
The event was attended by executives from member companies CRESO, president and representatives of sports federations and members of the sports media and mainstream media.
Source: 7 Dias