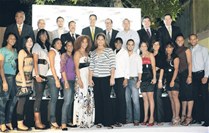 COD values CRESO efforts, and assures consolidation in 2012
For the Dominican Olympic Committee, the consolidation in 2012 of the CRESO program, which favors hundreds of athletes and federations, has been among the braking news this year.
When conversing with HOY journalists, the chairman of the COD, Luisín Mejía, assured that CRESO is quite the happening and the results are already showing at large scale.
"The support this cluster of businessmen gave us in order to prepare our athletes, whom attended the Olympic Games, is priceless" he added.
It was indicated that the program will extend to cover the Rio 2016 Olympic Games.
Commitment ratified: The Olympic Committee ratified their commitment of maintaining high civic and moral values.
Mr. Luisín Mejía, chairman of COD, called out to all national sports managers to continue working to deliver in favor of the best interest of Dominican sportsmanship. "We must commit to promoting sports at all levels", Mejía expressed. Mejía emphasized that sports are a fundamental component of human wellbeing, where the joy of living goes hand in hand with the possibility of interacting with our fellowman.
"Upon the culmination of 2012, we renewed our commitment to defend, promote and develop sports activities at all levels", Mejía continues to say in his speech during his interview with HOY copywriters. He expressed that the benefits of sports in physical and mental health in people is unquestionable.
Source: Hoy Digital, Telenord, Mirador Deportivo